HOW TO USE CHARMS
Login to Charms
Go to Avhsbands.org
Click "Charms"
School code is ArborViewBand
For first time login use your student's school I.D
Finances – How to Read Charms
To get to the "finances" tab click the red dollar sign symbol.
How to Read the Student Financial Summary

On the top of the financial Statement you will see this box. It is where you will see where you stand. If the numbers are in red you owe money. If they are in green you have a credit.
Everything that will be posted to your account whether it is for fundraising profit or fee payments will go into your student's Miscellaneous Balance Credit. This credit will be used to pay the "fixed" fees.
Fixed fees cannot change until the amount of your fixed fees have matching funds in the Miscellaneous Balance Credit.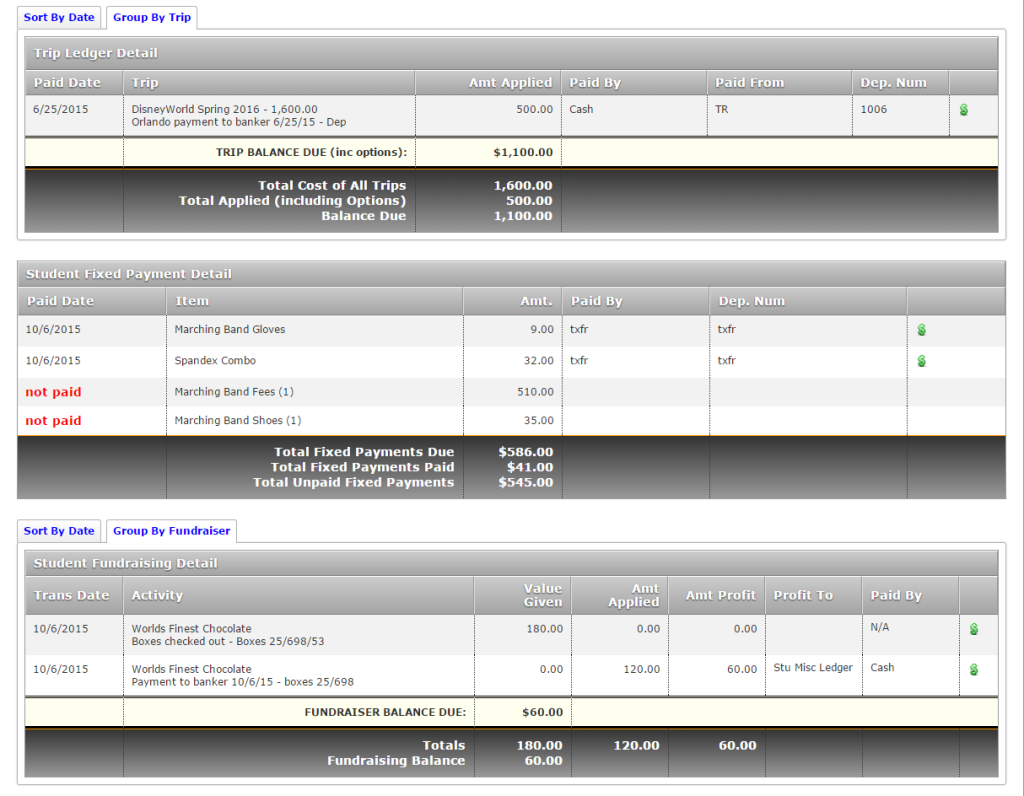 The above image shows the following:
Trip Ledger – Where you will see any payments made towards a trip
Student Fixed Payment Detail – This section will change once the funds are in the Miscellaneous Ledger. Fixed payments cannot be changed for band fees if a $100 payment is made towards the band fees in whole.
Fundraising Ledger – This is where all items will show checked out and profit for each fundraiser. The profit from fundraising will also be shown in your miscellaneous ledger below.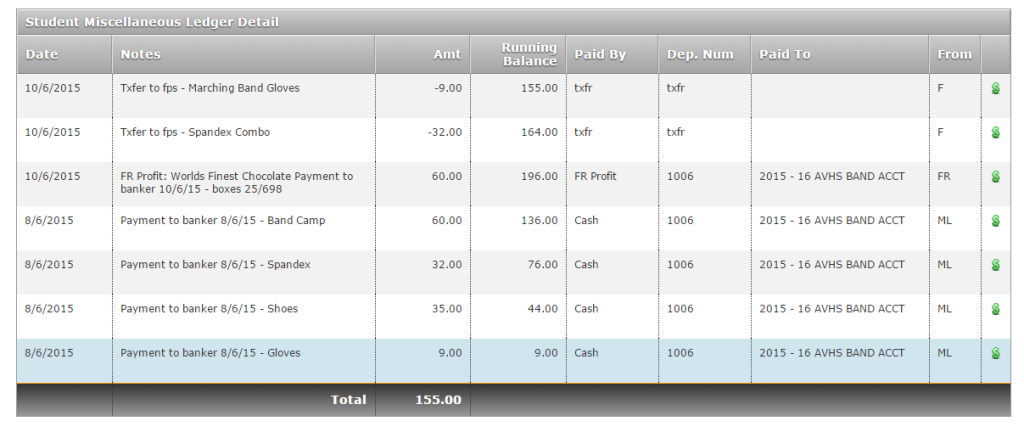 The miscellaneous ledger will show all money within your account in one area, excluding trip payments.
"Paid To" does not mean that it was deposited to the bands account. It is used for accounting purposes on our side.
The running balance will show everything added and subtracted from your account. It is a great tool to see what has been credited and debited from your account.
F.A.Q.
Q: If I paid for something and it shows in the miscellaneous ledger, but it shows unpaid in fixed payments why is that?
A: If you have made a payment for something such as shoes, gloves, etc. we try to catch it and mark the fixed payments as paid. If however we do not, please let us know and we will get it fixed.
---
Q: I made a payment and it isn't on Charms yet, when will it be added?
A: Please allow 7 – 10 days for all money paid through the school banker to be added to Charms. Credit Card payments will take up to 14 days after processing to be added.
---
Still have questions? Email Harrison at shawh@nv.ccsd.net